Captured from France in 1810, independent within the Commonwealth (as a republic since 1992), was in 1847 the first British colony and the fifth country in the world to issue postage stamps
Mauritius was also the first colony to order stamps via the Crown Agents (1848), the world's first surcharges were prepared in 1854, though not issued until 1858.
The definitive issues from 1860 onwards, notably the Queen's head and Arms types, are full of interest for the philatelist and postal historian alike. Also of great interest is the pre-adhesive postal history, of both French (before 1810) and British (after 1810) periods.
1846 Ordinance No 13
Joseph Osmond Barnard
In 1847, seven years after the first stamp was issued by Great Britain, Lady Gomn, the Governor's wife had the first Mauritian postage stamps printed, and entrusted Joseph Osmond Barnard, a local miniature painter and engraver, with the engraving of two stamps, one with the value of one penny and another with the value of two pence.
According a myth that went unquestioned until 1974 (see details), when working at the engraving of the stamps he suddenly realized that he had forgotten what was to be printed on them, so he went to the post office to get information. As he came closer to the building he saw the inscription "Post Office", which seemed to ring a bell for him. So he returned to work and engraved those two words, thus creating involuntarily the most famous stamps of Philatelic History, the "Post Office"-stamps.
When he realized that the correct wording should have been "Post Paid" it was too late. Already 240 pieces of both stamps were printed and sold. Lady Gomm, wife of Governor Gomm used the first issue of the "Post Office" stamps to frank her invitations for the fancy dress ball of September 30, 1847.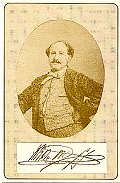 Joseph Osmond Barnard
Grand Port
Two Pence Blue of 1847
Of this print only 26 pieces survived, 12 of One Penny cancelled and 2 mint, and 6 of Two Pence cancelled and 6 mint. The estimated value of each of these stamps is over 1 million US Dollar, and will therefore hardly find their way into an ordinary stamp collection, but at least we can enjoy the sight of them.in a few museums.
Post Office Stamps
The Ball Cover
The 1847 Post Office Mauritius envelope is also known as the Ball Cover since the envelopes contained invitations to a ball hosted by the wife of the island's Governor.
The Ball Cover
The Bordeaux Cover
When a young French boy went through correspondence files in 1902, he could not realize that he was going to happen upon one of philately's greatest rarities. He was searching through a batch of dusty letters when he saw a cover franked with 1 penny and 2 pence stamps from Mauritius.
It was last auctioned in 1993 and sold for 5 Million Swiss Francs