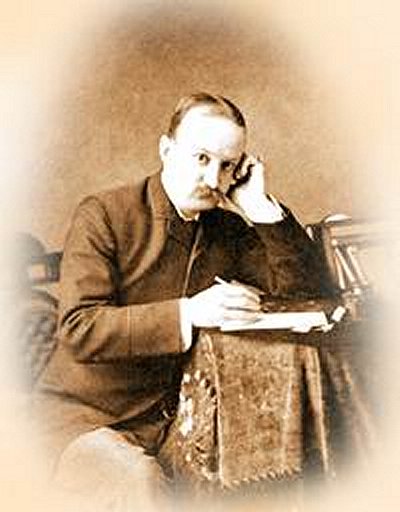 Major Edward B. Evans
Major Evans was elected a member of the Royal Philatelic Society in 1875. He served as a member of the Council from 1891 until 1900, and was one of the three original members of the Expert Committee, which was appointed in 1894.
He assisted in preparing some of the Society's works, especially in that of Africa Part II. Evans was Chairman of the Permanent Committee of the Philatelic Congress of Great Britain. He served as one of the judges at the London Philatelic Exhibitions of 1890, 1897 and 1906. He was among the first twenty on the Roll of Distinguished Philatelists.
About this pioneer philatelist, E. D. Bacon wrote:
"The works and papers of Major Evans are distinguished by great lucidity and accuracy, two of the most important qualifications that a writer on a scientific subject can possess. He had a keen sense of humor, which constantly peeps out in his writings, and he could seldom resist the temptation of making a pun when he saw an opportunity of doing so."
Evans was born at Norwich, England, on November 3rd, 1846, and commenced collecting stamps as a student at Uppingham Grammar School in 1861. So enthusiastic was he about his hobby that when he left the institution in December 1862, he was the proud possessor of the best collection within its precincts.
Throughout his life, he contributed his expert knowledge to philately. His first article was "On Stamp Collecting," and it appeared in the "North of England Stamp Review and Advertizer" of November, 1864, under the pseudonym "Cheth." For this his reward was a prize of stamps, the 'greatest treasure' of which was a set of forged Liberia. He kept these in his album for some time before he became aware that they were forgeries.
After he was commissioned as an officer in the Royal Artillery, in 1867, he was sent to Malta, and there met Lieutenant Speranza, who had formerly been the Secretary to the London Philatelic Society. It appears that it was this acquaintance that spurred him on to cultivate stamp collecting even further. While stationed in Malta, for nearly six years, he studied Italian. This knowledge enabled him, many years later, to translate Dr. E. Diena's great work on the Stamps of Sicily. When Evans returned to England, with his battery, in 1873 and he was stationed at Plymouth. While there he became acquainted with E. Stanley Gibbons. It was about this time, that Evans, in his own words, "began to understand how stamps should be collected."
In 1876 he took another bold step. He volunteered to serve with a battery that was posted to Mauritius. He took this step, no doubt, with the hope of being able to do something for philately in that island. While in Mauritius he wrote a learned paper on the stamps of the Colony. In 1878, he sent the paper to the "Congres International des Timbrophiles" at Paris. The paper earned for him the award of the Societe Francaise de Timbrologie, of which he had been a member since 1876.
Referring to this work, the President of the Society-Dr. Legrand-said, "Amateurs cannot but be under an obligation to the French Society for having rewarded the efforts made by Evans to solve their difficulties. He has shown philatelists how the materials wherewith to prosecute their science ought to be collected."
By now a captain, Evans was sent to Natal in 1879 to take part in the Zulu war after the disaster at Isandlawana. While in South Africa he bought at face value a couple of entire sheets of the Transvaal 1879 provisionals 1d on 6d slate, with the red surcharge.
At the beginning of 1880 he returned to England and took up an appointment as Adjutant of Artillery Militia at Wicklow, Ireland. His military duties at the time were light and this was a blessing. In the five years he spent in Wicklow he produced some important works. His contributions were, notably:
– His papers on, the Stamps of Mauritius were published in The Philatelic Record in 1880 and 1881.
– In 1882 he compiled "A Catalogue for Collectors of Postage Stamps, Stamped Envelopes, Wrappers and Postcards" which was priced by the publishers-Pemberton Wilson & Co.
. Top
– In 1885 Stanley Gibbons & Co. published "The Philatelic Handbook" written by Captain Evans.
– In 1887 C. H. Mekeel (St. Louis) published a "Catalogue of the Postage Stamps of Peru" by Evans and in 1890 the same firm issued "The Philatelic Catalogue of Postage Stamps, Envelopes, Wrappers and Cards, Up to January 1, 1890."
– An arrangement was made in 1894 that he should write a "description of the Mulready envelopes and of the imitations and caricatures of its design, etc." and this work was published by Stanley Gibbons, Ltd., which ran through three editions.
– His great collection of "Mulreadies and its Caricatures" was, later on, purchased by H. M. King George V.
In 1891 Evans started editing Stanley Gibbons Monthly Journal which had been founded in July, 1890. He continued this work until the outbreak of the Great War in August, 1914, when the publication of the Monthly Journal was suspended. For twenty-three years Evans edited this publication. Evans also edited the last five volumes of Gibbons Stamp Weekly. His friend E. D. Bacon wrote as follows in the London Philatelist for April, 1922:
"He made the lists of new issues of stamps one of the conspicuous features of the journal, and no praise can be too high for the assiduous care he lavished, on this work. No lists, certainly in any other English journal covering the same period, approach those he compiled for completeness and accuracy, and they will always remain a mine of wealth to all writers who are seeking for information on stamps issued during the years the magazine was published."
During his editorship of the Monthly Journal, Evans contributed a large number of highly important articles. Among them were a series that ran for several years on the stamps of the Native States of India. Much of the information contained in the articles was based on his own very large collection. Even today these articles are the standard on these complex groups of native stamps.
While Evans was in Mauritius he formed a large collection of the Mauritius stamps. These included a very fine specimen of the One Penny "POST OFFICE" lightly postmarked on an entire envelope and several unused Two Pence "Post Paid" in indigo and dark blue.
In 1885 when this collection was broken up, these (and many others) were bought by T. K. Tapling. They are now in the British Library.
After giving up his general collection, Major Evans specialized in the stamps of the Confederate States, and wrote a long series of articles in the Monthly Journal. About 1914 this collection was sold to John Klemann.
Major Evans died on March 21, 1922, at his residence at Cantley, Norfolk.