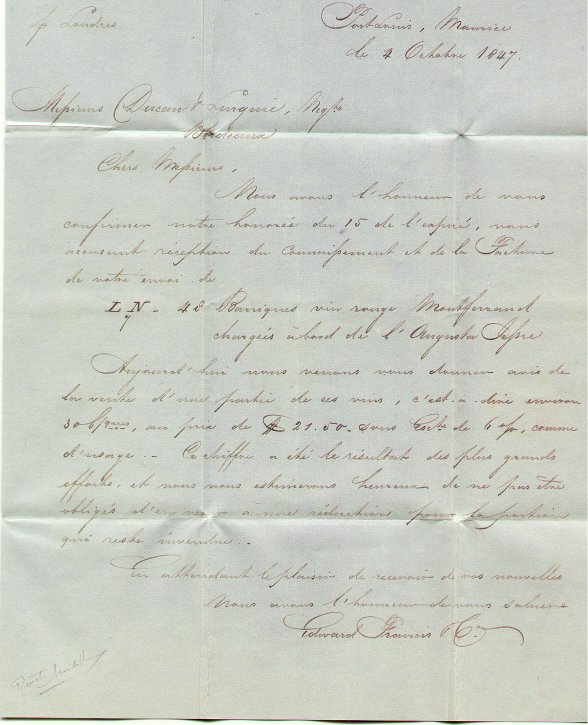 The Bordeaux Letter
On October 4th, 1847, the firma Edward Francis & Co.of Port Louis, Mauritius, confirms to their correpondent, the Wine Merchant Duncan & Lurguie in Bordeaux, France, an order for 30 barrels of wine..
This letter is posted via England in an envelope with both the One Penny Orange and the Two Penny Blue stamps.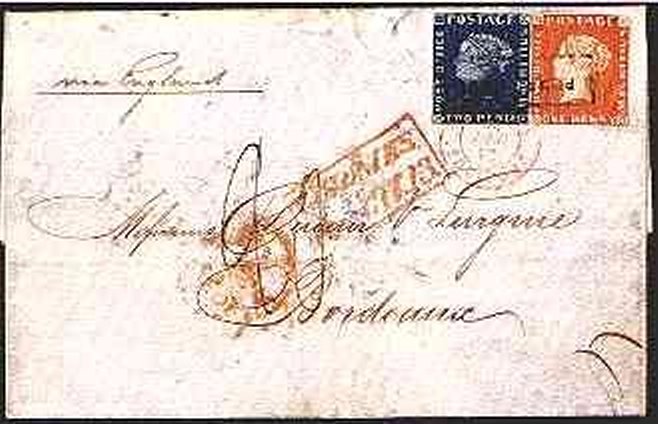 The Front side of the Bordeaux Cover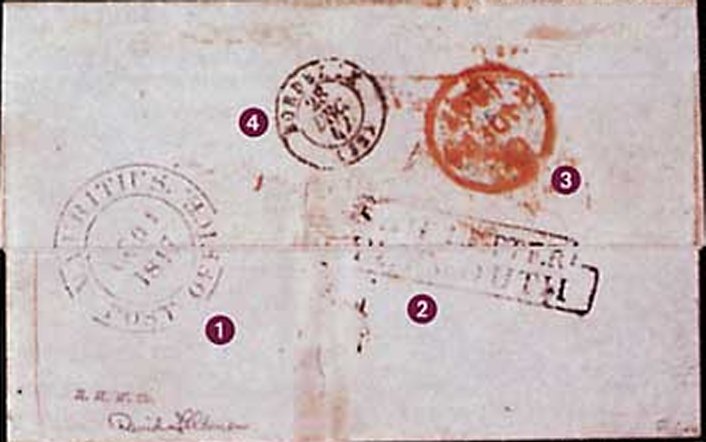 The Back side of the Bordeaux Cover
The History of the Trip
The handstamps relate the history of the trip.
The Mauritius Post Office circular datestamp of October 4, 1847 (Nr. 1) on both front and back and the "Penny Post" handstamp on the stamps marks the beginning of the trip.
The framed "SHIP LETTER PLYMOUTH" handstamp (Nr.2) marks the trip to England around the Cap of Good Hope and then to France ("COLONIES & ART.13") on the front of the cover.
The arrival in France is documented by the "BOULOGNE" handstamp on the front side and the PARIS datestamp of December 26th, 1847 (Nr. 3).
Finally, the "BORDEAUX" datestamp of December 28, 1847 (Nr 4) proves the arrival at destination.
The Owners
When a young French boy went through correspondence files in 1902, he could not realize that he was going to happen upon one of philately's greatest rarities. He was searching through a batch of dusty letters when he saw a cover franked with 1 penny and 2 pence stamps from the volcanic island of Mauritius. As he examined the cover, he recalled reading about the unusual stamps in a magazine.
The young French boy was holding a cover franked with two of the stamps – singles of each value. The cover was addressed to 'Messieurs Ducan & Lurguie' in Bordeaux and Paris in October 1847.
The boy knowing that his find was worth a lot of money, took his discovery to a stamp dealer in Paris, a Mr. Lemaire. The Dealer realizing the value of this cover, purchased it from the boy for about 40,000 francs.
The cover was later acquired by French collector Brunet de l'Argentiere.
In 1922 Arthur Hind purchased this rarity.
It was sold to Maurice Burrus during the H.R. Harmer auction of the Hind collection in London in 1934.
Raymond H. Weill Company purchased the cover for $78,400 during the 1963 Robson Lowe auction in London.
It changed hands once again when it was purchased by Hiroyuki Kanai in 1970 to add to his remarkable Mauritius collection.
It was auctioned again in November 1993 at a Feldman auction and sold for 5 Million Swiss Francs (approx. USD 3 Million) to a collector in Singapore